"Finance people have been left behind by automation."
I've been saying it for years. I frequently cite examples like my friend Mike, an FP&A guy who never gets to celebrate July 4th with his family. While his family is at the beach, Mike is closing the books for half-year end.
Or take Paula as an example, a corporate controller who until recently couldn't enjoy Thanksgiving with her family because of weekend-long board meeting preparations.
I know these stories because I've heard them firsthand from both Mike and Paula.
But I was never able to quantify to what degree finance and accounting people are left behind by technology and automation.
That is, until now.
I am very pleased to announce the results of the first ever Auditoria 2020 Survey: Automation in ERP and the Finance Back Office, now available for download on Auditoria.AI.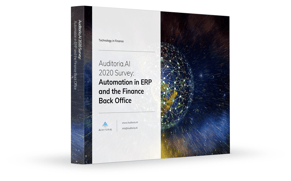 In the first half of 2020, we set out to determine the top challenges facing today's accounting and finance teams. We hoped to determine the level of automation present in the modern finance back office.
Side note: the stated mission of Auditoria.AI is to increase those levels of automation in the finance back office.
To that end, we surveyed several hundred finance professionals across the US and asked them to complete a simple twelve-question survey. it didn't take long to get the results back.
Our findings highlight the top 12 issues facing modern finance and accounting teams—including global disruption and business continuity in the face of a pandemic—and how the respondents use automation to address these challenges.
Key findings include:
Most companies automate a small fraction of back office processes.
Accounts Payable and Accounts Receivable are the most manual back office processes.
Nearly half of practitioners feel repetitive work is a massive drain on the organization.
Now that we've benchmarked the levels of automation in ERP and the finance back office, we can get to work on increasing automation and helping folks like Mike and Paula get their lives back.