Overcome the barriers of inefficiencies in procure-to-pay operations with the help of proficiently applied automation
Accounts payable—heavy on the wallet, heavier on processes.
Let's quickly level-set here: at baseline, accounts payable (AP) is the money the organization owes to its vendors for the goods and services they received on credit.
Typically, AP at most organizations primarily revolves around completing the payments by processing, verifying, and reconciling invoices.
However, the current remote workplace environment adds another layer of inconvenience in an already incommodious function of AP. These financial and administrative challenges translate directly to the company's operational cost. According to the Institute of Finance and Management (IOFM), 59 percent of AP departments in the US paid their invoices late during the pandemic.
In this article, we will take a deep dive into optimizing and automating the accounts payable process so finance departments and organizations alike can reap the benefits of on-time payments. Let's get started.
What is Accounts Payable Automation?
Some may think that automating the accounts payable function starts and ends with paperless billing and systems. While this may be a good start, there are far more elements to accounts payable automation than being eco-friendly alone.
AP automation includes truly digitized invoices, systematic data integration, autonomous invoice matching & processing, event-based approval mechanism, and finally, a status-based information flow to accounting for payments.
So essentially, technology can take over, allowing team members to focus on more high-level business priorities to help move the needle for the company. AP automation helps teams save $13 on average for each invoice processed. For companies processing 500 invoices per month, that is an annual savings of $78,000.
In our 2021 Automation in the Back Office report, 33% of finance professionals reported that Accounts Payable (AP) involves the most manual work, followed by Accounts Receivable (AR), with 24% percent noting that the cash collections department has the most manual labor.
As many know, record-keeping often translates into hours spent inputting data into systems and updating old records. AP tasks often require a keen eye to notice trends and discrepancies in the data collected. Unsurprisingly, more than 38%) of finance professionals say investing in new technologies to improve business processes is the top priority for the team in the next year.
Eliminate Manual Work with AP Automation
Implementing technology that streamlines processes and allows professionals to focus on higher-level business tasks elevates the role of the finance back-office and allows teams to be more efficient and effective. Investing in an AP automation tool can be the difference between your finance teams drowning in work and having the time to help drive the business forward.
Here's what you should look for in an AP automation tool:
Built-in Intelligence
Innovations in natural language processing (NLP) provide industry-leading intent detection and classification to understand and handle incoming inquiries rapidly. The ability to continually learn from prior interactions is critical, and finance teams should avoid investing in the proverbial "dumb" bot with minimal intelligence or learning capabilities.


Domain Expertise & Process Awareness
Having the automated response system understand the Finance and Accounting domain—and hence the specifics of payables, invoices, receivables, purchase orders, and more—means less human oversight as the bots know the language your team speaks each day.

Another essential component is the flexibility to support the processes embraced by the finance team. Whether it's multi-level approval or automated executive escalation, process awareness is a critical component of automated response systems.


Integration Flexibility
Today's finance teams have a myriad of systems that surround their ERP applications. These include point products for Procurement, Accounts Payable, Accounts Receivable, FP&A, and more. Make sure your automated response systems are flexible and have rich integrations. The last thing you want to end up with is a siloed one-off response system that works only with a portion of your applications.


Human Assistance
The most useful automated response tools know when to bring the human expert in and take over the interaction through to completion. This human takeover allows for the best possible customer experience while ensuring that insights are gleaned to improve the automated response for subsequent interactions. Intelligent and elegant human handover are critical elements of an automated interactive response strategy.
Automate Your Accounts Payable Function with Auditoria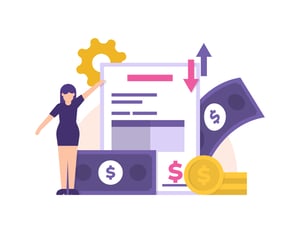 Now more than ever, back-office operations need to be transformed to free your accounting team from gruelingly repetitive manual tasks.
Auditoria increases speed, accuracy, and efficiency in the finance back-office using AI-enabled SmartBots to automate redundant and manual accounting processes.
Purpose-built for finance with advanced technologies, Auditoria SmartBots integrate with systems of record and email boxes to act as a system of engagement to streamline collections, add controls to procurement spend, optimize vendor management and handle helpdesk inquiries.
Reduce friction across teams
Eliminate manual tasks
Simplify resource complexities
Gain insight and transparency
Reduce days sales outstanding
Recover thousands of hours
Reduce bad debt write-off
Increase team productivity
Auditoria's SmartBots provide a system of engagement, utilizing the email function and systems of record to automate finance functions.
Ready to experience the power of Auditoria for yourself? Schedule a demo today to see our SmartBots in action.
If you're not ready to take the leap but want to learn more, download our Solutions Guide to learn more about Autonomous Accounts Payable and Accounts Receivable.