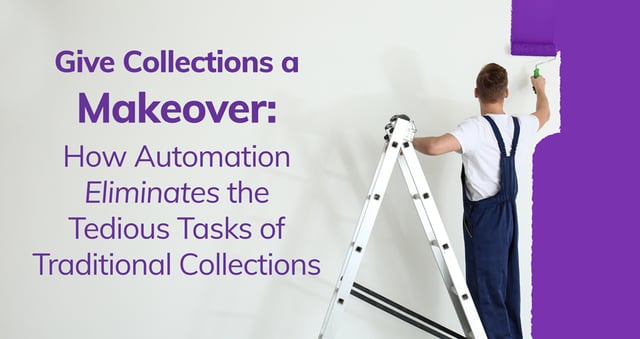 2,000 hours.
For mid-size companies, most collections teams spend more than 2,000 hours annually on routine, labor-intensive accounts receivables and collections tasks. For larger enterprises with collections teams consisting of approximately25 people, this number jumps to 16,000 hours of routine, manual work.
Responding to requests for documentation, researching account statuses, and following up on outstanding balances takes time away from more impactful activities. It's no wonder why 45% of finance and accounting practitioners feel repetitive work is a massive drain on the organization.
The truth is manual tasks don't need to take up the bulk of the collections team's work week.
Collections is in desperate need of a makeover. Enter automation.
By automating the collections processes, you'll be able to increase speed, accuracy, and productivity in the back office.
So let's break down how to overcome the challenges of traditional collections and improve your collections process with automation.
The Challenges of Traditional Collections
There is no doubt repetitive work is ruining corporate finance.
Accounts receivable is consistently ranked as having the most manual work across the corporate finance back office. This isn't surprising as AR and collections tasks often require seeking approval or authorization, gathering data, inputting data for analysis, communicating internally or externally with teams, or following up on outstanding payments.
While repetitive work takes the cake in terms of key challenges, collections teams also point to a lack of responsiveness and inaccurate customer information as major challenges. Nothing is more frustrating than having to chase down outstanding balances or follow up with account contacts only to wait weeks for responses.
This consistent back and forth consumes hours of valuable time better spent on higher-level business objectives. While your team is waiting for these responses, they manually input data. In reality, record-keeping and inputting data into systems require a keen eye for detail to notice any discrepancies. Partially complete and inaccurate data only adds to the daily frustration.
Collections teams are stretched too thin. There has to be a better way to address these challenges of traditional collections methods. It's time for your collections team to embrace automation.
How to Automate Collections
With automation, the days when collections teams spend hours gathering data and chasing after outstanding payments vanish. Instead, automation will allow the team to perform the jobs they were seeking to do when they set out on their career path.
The first step in automating the collections process is implementing advanced technology that understands finance.
Take Auditoria, for example. Our rich natural language processing allows small, executable workflows we call bots to perform a range of tasks and communicate internally and externally. With next-gen machine learning and AI-built technology, teams will see a 10x multiplier in accuracy and productivity.
Once advanced technology like ours is in place, AR inboxes are easily monitored and managed. The advanced technology reads, understands, and labels emails to categorize and organize them, thereby reducing clutter and instead, streamlining responses for the AR team.
Remember how your collections team would spend hours gathering and inputting data into your systems?
Well, with finance automation, businesses achieve end-to-end tracking, fulfillment, and reconciliation of invoices and payments to increase productivity and effectiveness.
There's no need to worry about manual data entry errors as automation ensures data written to the system of record is checked and approved to verify inputs before being uploaded. You'll not only see improved accuracy, but workflows will be running smoother than ever before.
Benefits of Improved Collections
The benefits of automating collections are numerous for you as a finance professional, the entire collections team, and your business as a whole.
By automating the manual tasks associated with collections, you remove the human-introduced errors from the equation to ensure that transactions are accurate across your systems of record. Say goodbye to stress and friction in the finance function thanks to a reliable and precise financial and accounting system.
With advanced automation technology and machine learning doing the tedious, mundane work, employees now spend their time deriving insights and making smarter business decisions that lead to company growth and investment.
How Auditoria Streamlines Collections
Set yourself up for success with Auditoria SmartCollections.
With Auditoria SmartCollections, you'll be able to improve cash performance, increase productivity, and deliver better customer satisfaction.
Purpose-built for finance, Auditoria SmartCollections leverages AI, machine learning, Cognitive Robotic Process Automation (RPA), Optical Character Recognition (OCR), and Natural Language Processing to overhaul your collections platform.
Using AI-enabled SmartBots, SmartCollections increase speed, efficiency, and accuracy in the finance back office. SmartBots send courtesy notices and dunning based on communication cadences set to specific criteria to maximize collections efforts, saving hundreds of hours for the collections teams.
SmartBots monitor email inboxes for inquiries and calls to action, communicating conversationally with stakeholders across the organization. SmartBots also set alerts for the collections team to address escalated situations on a case-by-case basis, recovering hours and hours teams used to spend sifting and responding to emails.
No longer spend time figuring out what to prioritize. With SmartCollections, you streamline your collections teams' efforts with a daily worklist of strategic recommendations and prioritized actions curated by SmartBots.
Learn how Auditoria SmartCollections transforms your collections team into a well-oiled machine.