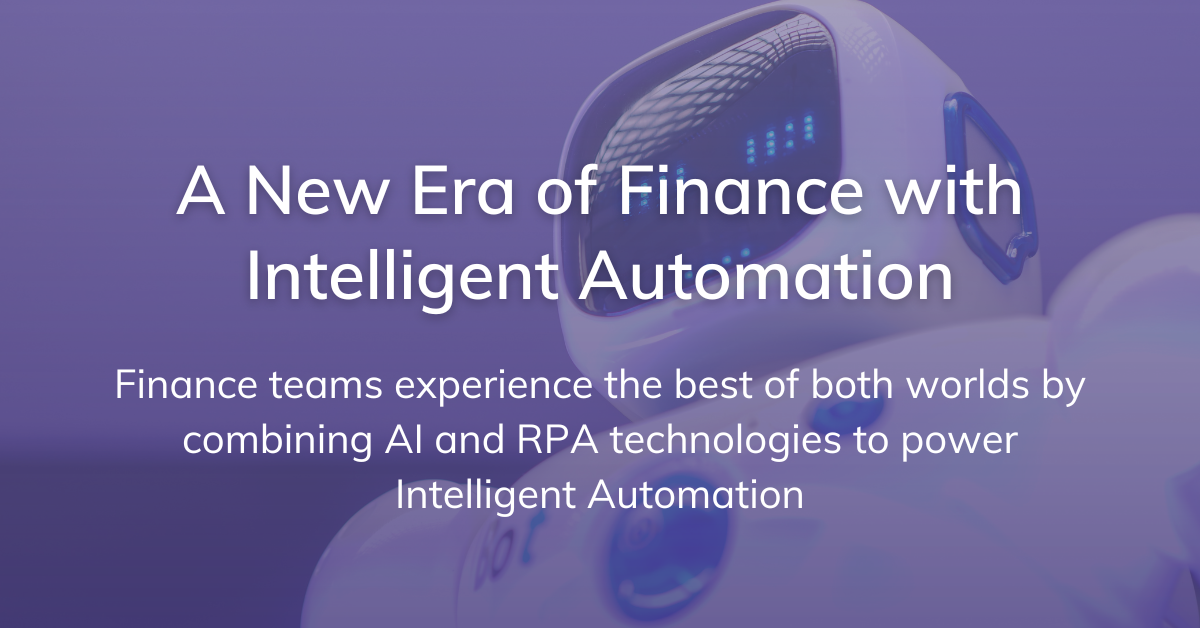 Several years ago, Robotic Process Automation (RPA) solutions were a welcome addition to business processes before Intelligent Automation (IA) was even a thought.
These solutions provided a remedial level of automation across finance processes, but better tech has since emerged.
Needless to say, finance is complicated, and RPA solutions alone no longer have the capabilities to automate the complex workflows and processing that finance requires. For automation to solve these challenges and be impactful for the finance back office, teams need to incorporate the latest technology.
RPA was only an improvement rather than a long-term solution to solving the biggest challenges the finance back office faces.
We recently sat down with experts in finance automation and AI as part of our CFO Corner Podcast to discuss the evolution of RPA and the realization that Intelligent Automation is no longer a nice to have, but rather a necessity.
Subscribe the Auditoria's CFO Corner Podcast to stay ahead of the game and hear from industry leaders as they take a deep dive into the future of finance and what it means for back-office processes and operations.
Understanding the Difference Between Intelligent Automation and RPA
Robotic Process Automation has had its limitations since it emerged as a first-generation solution.
While RPA makes it easy to deploy and manage software robots that emulate human actions within software systems, its reliance on predefined business rules and activities to automate repetitive processes is a constant obstacle. RPA solutions lack the intelligence to learn by themselves.
Simply put, RPA is too regimented to adjust on its own.
Intelligent Automation, also referred to as "Intelligent Apps," on the other hand provides the fluidity and adaptability finance teams are so desperately in need of. IA is an overarching umbrella of technologies that enable the automation of the more complicated business processes.
Comprised of basic RPA and cognitive automation in addition to artificial intelligence and natural language processing, IA has the ability to scale business process automation enterprise-wide while freeing employees up to focus on higher value-added work.
At its most basic level, Intelligent Automation enables bots to automate steps in a process instead of having people move transactions from one step to another.
At its most advanced level, cognitive systems use historical data to make analytical forecasts, handle exceptional situations, and assist knowledge workers in making decisions and gaining new insights.
Intelligent Automation does not push RPA to the side. Rather, it utilizes RPA and other intelligent technologies to provide the most seamless automation solution for consumers.
Benefits of Intelligent Automation
By combining AI and RPA, Intelligent Automation expands the possibilities of process automation across businesses, enabling faster, more intelligent decisions.
The key benefits of IA include:
Improving overall customer experience
Optimizing back-office operations
Monitoring and detecting fraud more effectively
Reducing operational obstacles
Automating business process end-to-end
Organizing and processing complex data sets
The benefits are numerous. By automating business processes with IA, your company saves time and money by optimizing human interaction and increasing processing speed, while ensuring greater accuracy and consistent results.
How Do You Measure ROI of Intelligent Automation?
As the old saying goes, time is money.
With Intelligent Automation, the ROI of your automated processes is measured in time savings. This advanced technology will have teams seeing a 10x multiplier in accuracy and productivity. Your business will see the ROI of investing in Intelligent Automation as it takes a deeper look into how much time was spent on human-driven processes as well as the costs associated with completing those processes.
By letting IA do the tedious, mundane work, the finance team is empowered to spend its time deriving insights from data and partaking in value-added projects that grow the business and its capabilities.
The good news? This is only the beginning of Intelligent Automation.
Chris Wetmore, Principal at RSM, explains that the term Intelligent Automation is still new. He predicts, "Over the next five years, the automation of various automation technologies is going to evolve and continue to expand because there is so much opportunity there."
With more than 70% of finance processes having the potential to be automated, the ROI for business is significant.
Embrace Intelligent Automation with Auditoria SmartBots
In today's ever-changing business landscape, with required collaboration across both internal and external stakeholders and handling diverse sets of data, Auditoria understands that RPA alone is not sufficient enough when handling more complex business processes.
Based on Advanced AI/ML/NLP technology, Auditoria's SmartBots are the industry's first purpose-built SaaS application that combines intelligent, cognitive automation, and stakeholder collaboration in a single user experience.
With SmartBots, Auditoria takes Intelligent Automation to the next level.
By leveraging RPA technologies to access data sources, Auditoria SmartBots capture data, perform actions, and hand off to humans using sophisticated workflows, escalating when intervention is needed.
CFO Corner Podcast
The future of finance is constantly evolving. It's becoming more crucial to stay on top of the latest trends, insights, and predictions in the industry. If only there was a one-stop shop to stay up-to-date on what experts are saying about finance automation? Well now, there is!
Subscribe the Auditoria's CFO Corner Podcast to stay ahead of the game and hear from industry leaders as they take a deep dive into the future of finance and what it means for back-office processes and operations.