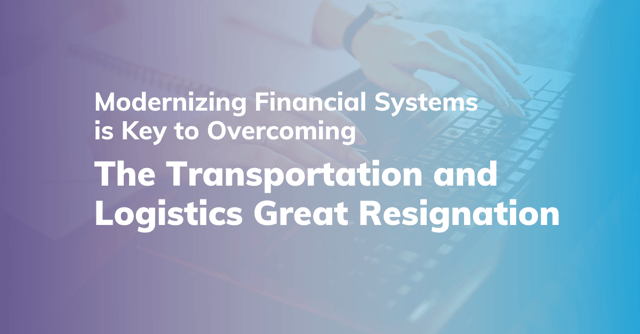 The pandemic of 2020-2022 has impacted Transportation and Logistics (T&L) operations dramatically in unforeseen ways. Suddenly, these companies had to deal with an uneasy workforce that increasingly swapped jobs, new social distancing rules, rapidly evolving government mandates, and wildly fluctuating material availability.
The disruption continues to pose many challenges but provides logistics firms with an opportunity to reinvent themselves and reposition for future growth. Deploying a modern financial solution is key to making the transition successfully.
Moving materials and goods through the supply chain is a manually intensive business heavily dependent on human capital, which became an even more precious commodity once the pandemic started. As the virus spread, most individuals (88%) reevaluated their priorities, and countless numbers quit their jobs. By November 2021, 4.5 million people left their employers.
"The Great Resignation" hit T&L enterprises particularly hard. The shipping industry alone lost 1.52 million workers throughout the pandemic. The future is uncertain because filling positions has become challenging— in some cases almost impossible—so a shortage of 330,000 truckers is forecast through 2024.
The Fight to Survive
The upheaval added more pressure to an industry already under duress. The breadth of competition has been widening as technology advancements and emerging national economies opened up new avenues for startup suppliers.
Product lifecycles have been shrinking as technology accelerated both product adoption and obsolescence. Margins have become razor-thin as companies continue to buy market share. As a result, supply chain businesses are now literally fighting for their very survival, and many lack the tools necessary to survive.
Shippers, freight forwarders, brokers, and carriers are vulnerable because their increasingly sophisticated customer base has access to more products and services and are able to change vendors faster than ever before. A slight price difference could flip a long, well-established business partner into a former client.
Legacy Limitations Become Clear
The transport market has long scrutinized every penny and was often sluggish in adopting modern technology. Therefore, many supply chain enterprises rely on legacy business processes created before the digital revolution and strewn with inefficiencies.
These outdated processes:
Require a great deal of manual input
Silo information, so that a complete picture of financial performance is difficult to obtain
Cannot handle growing volumes of transactions
Lack integration among manufacturing, supply chain, and backoffice functionality
Do not provide complete, accurate pictures of their customers' journey
Manage revenue reactively rather than proactively
These logistics businesses must modernize their operations as soon as possible to gain ways to do more with less. A transformation would automate and replace cumbersome manual payment processes by upgrading their financial systems. A solution with open Application Programming Interfaces (APIs) and Artificial Intelligence (AI) would empower them to create innovative, practical, and frictionless payment experiences.
T&L Leaders Adopt Digital Solutions
Ironically, the Great Resignation created the perfect time for supply chain companies to examine whether their technology infrastructure provides what they need. Many firms found their systems lacking and invested in new technology.
Enterprises accelerated the digitization of their customer exchanges, supply-chain interactions, and internal operations by three to four years. As a result, their deployments of digital or digitally-enabled products were accelerated by a shocking seven years.
In essence, competitors adopted new technology to adapt to the new "Great Resignation" world. If you have not, you are at a competitive disadvantage.
Making the switch to modern finance technology enables T&L companies to:
Leverage advanced analytics and identify opportunities for different negotiation strategies
Gain more visibility into and control over pricing
Adjust volumes accordingly to supply and demand commitments and constraints
Support distributed sales forces
Predict payments and collections more effectively
Empower employees by offloading routine tasks to spend more time on high-value work
Improve customer service, boost client satisfaction, and retain more clients by creating instantaneous, easy, and frictionless interactions
Identify and remediate financial process bottlenecks
Reduce cost per shipment expenses
The change lifts morale, improves the business, and makes workers more productive. They use their critical thinking skills to improve the business. The corporate ambiance shifts from one where workers are constantly in catch-up mode to one where they are afforded time to innovate. Employees feel empowered when they walk in the door and commit themselves to the business.
The pandemic created problems and opportunities for shippers, freight forwarders, brokers, and carriers. By upgrading their legacy commerce systems, they automate manual processes, gain more insight into their operations, and thrive, not merely survive, during these difficult times.