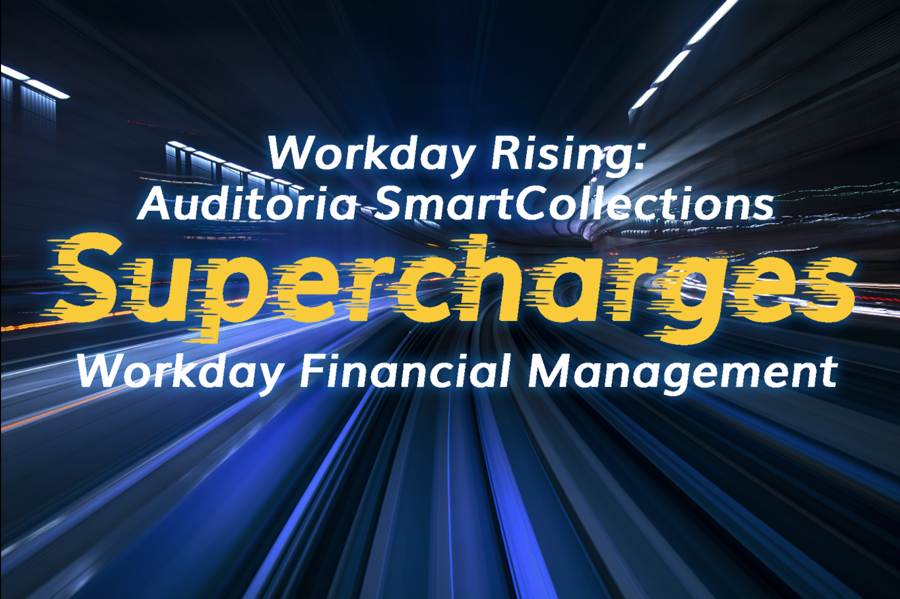 To keep up with changing times, finance professionals must understand the opportunities for intelligent, autonomous finance, and embrace emerging technology.
While more than half of finance professionals seek greater automation within their finance office – according to our third-annual State of Automation Report – Workday Financial Management customers have increased automation at their fingertips with Auditoria.
Auditoria SmartCollections processes Workday customer, invoice, and payment data to improve collections functions and optimize accounts receivable workflows – helping organizations achieve greater cash position visibility.
We're also proud to be a Workday Ventures Partner, with access to Workday's extensive experience, market know-how, and global reach in the enterprise space. Together, we are helping finance teams work more effectively as companies move toward digital transformation and automation, allowing the office of the CFO to focus on strategy and business initiatives rather than on error-prone manual tasks.
Keep reading to learn more about our powerful integration with Workday Financial Management.

Seven Benefits of Workday and Auditoria's Partnership
"A new era is transforming Workday Financial Management customers' accounts receivable universe, powered by AI, machine learning, and natural language processing. Our integration is supercharging Workday Financial Management – allowing finance teams to move faster and accomplish more than ever before."

– Rohit Gupta, CEO and co-founder, Auditoria.AI
Supercharging Workday Financial Management, Auditoria's SmartCollections and AR Helpdesk solutions increase workflow velocity to allow finance teams to move at lightning speed, accomplishing more than ever thought possible, faster than ever imagined.
Uniquely positioned with the Workday Approved Badge, Auditoria offers a productized integration for Workday customers with a direct line into Workday product engineering teams.
Purpose-built for the finance function, Auditoria's next-generation machine learning, artificial intelligence, and natural language technology delivers a 10x multiplier in accuracy and productivity. Auditoria's distinctive approach to receivables and collections automation comes pre-trained in the language of accounting. SmartBots perform critical tasks and communicate to internal and external stakeholders using business-contextual finance vocabulary for the richest, most reliable AI-enabled finance workflows.
Here are the top benefits of Auditoria SmartCollections for Workday Financial Management customers:
Task Execution: SmartBots minimize errors and remove human-induced mistakes in task execution to ensure that transactions accurately reconcile with Workday financial data, handling more than 75% of the administrative work that a collections FTE would do.


Streamlined Communication: Set to specific account criteria and intervals, SmartCollections maximize collections efforts and streamline email correspondence, saving countless hours for the AR team.


24/7 Inbox Monitoring: With the AR Helpdesk, SmartBots continuously monitor accounts receivable inboxes for inquiries and requests, engaging and responding conversationally to internal and external stakeholders.

Immediate Issue Escalation: SmartBots set alerts for the AR and collections teams to address escalated situations on a case-by-case basis, recommending action to be taken and recovering hundreds of hours previously spent by team members sifting through emails and responding to routine questions.


Seamless Payments: SmartBots manage customer payments with intelligent, granular classification rules for personalized engagement for each account or payer type. SmartBots dynamically recalibrate and reclassify accounts as payment behavior changes to ensure more accurate payments and reporting.


Strategic Recommendations: SmartBots streamline collections efforts with a daily worklist of strategic recommendations and actions. Curated by SmartBots, the prioritized tasks are dynamically updated to maximize outreach so that age and amount are no longer the only levers to determine a course of action.


Automatic Customer Information: SmartBots collect and populate rich customer account information with detailed notes, reminders, and audit logs to provide a comprehensive 360-degree view of collections interactions.

Auditoria at Workday Rising
During Workday Rising this year, Auditoria.AI will showcase the power of SmartCollections and Advanced Accruals alongside LiveRamp (NYSE: RAMP), a leading data connectivity platform.
Workday Rising, which will take place for the first time in three years, is a gathering for customers, prospective customers, sponsoring partners, and employees to come together – digitally and in person – to learn how to leverage Workday not just to adapt to change, but drive change in today's dynamic world.
During the session, Srinivasa Gudugundla, head of enterprise applications and transformation at LiveRamp, will show how LiveRamp is transforming the office of the CFO with Al-based SmartBots to accelerate its month-end accruals processes. Find more information on the session here.
To learn more about Auditoria and the power of Auditoria SmartCollections, visit Auditoria during this year's Workday Rising at Kiosk E5 as well as the Innovation Zone in the Expo Hall.