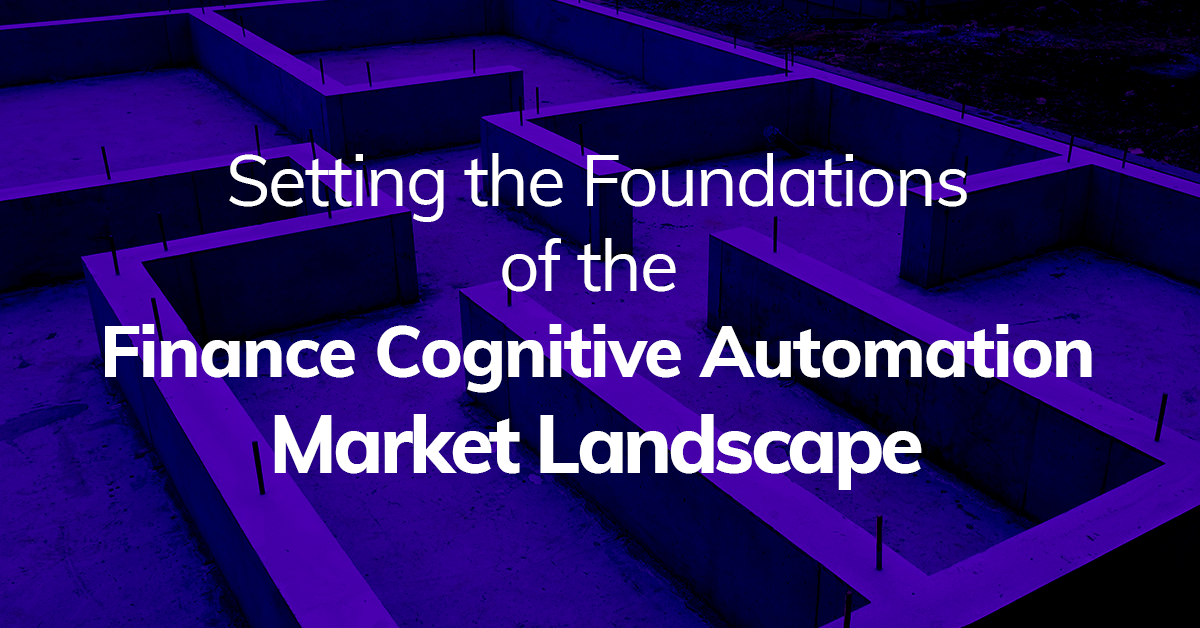 It's been almost one year since our team here at Auditoria actively started taking our offerings to market. And what a year it's been.
We've seen incredible momentum as we created and set the foundations for the cognitive automation market for finance and accounting. A summary of our achievements of the year gone by are available in the press release that we announced earlier this morning.
Automation in Finance in Accounting is not new. Companies have been attempting to leverage various techniques to automate efficient tasks and eliminate redundant manual processes for over two decades.
However, With the advent of artificial intelligence and natural language processing, the opportunity for delivering true automation with processes being executed with minimal human intervention is now a reality. Auditoria provides the industry's first commercial-grade SmartBots that simulate and replicate contextual human behavior in finance and accounting. With SmartBots for accounts receivables and collections, vendor management, and handling general ledger interactions, cognitive automation for classic accounting tasks is now a reality.
Our progress over the last 12 months has spanned several dimensions: customer growth, new technology innovation, team and leadership expansion, new industry partnerships and recognition, and culminated with a successful fundraise to spearhead our growth. Let me share my thoughts on each of these dimensions:
With every month, we gained the trust of new customers.

To have blue-chip Enterprises such as Arrive Logistics,

Freshworks

, LiveRamp, and

UserTesting

make their commitment and depend upon Auditoria's SmartFlow Skills to drive their cognitive automation needs in their finance team was incredibly gratifying.

Every technology innovator can only go as far as the strength of its team.

I was thrilled to have the opportunity to invite

two new leaders, Jason Murante and Sandeep Maharia, to our team at Auditoria

. Jason comes with incredible experiences, having built and scaled successful sales teams at companies like FIS Global, Billtrust, and Rimilia. Sandeep has successfully built and operated high-performing engineering teams working on critical innovation for the back office for over a decade at ADP. Our team experienced over 100% growth last year and, under the stewardship of our new leaders, will strive to achieve even greater heights in the future.
As Auditoria's products penetrated the Enterprise, we partnered with innovative and disruptive companies like Snowflake, Coupa, and Bill.com to further extend our market leadership. Snowflake gives Auditoria's customers the best cloud data lake to build and deliver cutting-edge analytics and reporting. Auditoria provides Coupa and Bill.com clients with best-in-class capabilities for automated accruals to streamline monthly close reporting and handle supplier and vendor interactions for typical tasks such as vendor onboarding, tax form collections, and invoice processing.
Our relationship with Workday got even closer. We became the first provider formally badged by Workday for our SmartCollections skills. This badging effort provides Workday customers with complete peace of mind and the tightest bidirectional integration available for accounts receivables and cash performance automation.
Why is this important:

Workday has its own specific set of product release cycles; they have weekly maintenance windows and regular product updates. They also have specific design cycle changes into their core

Financial Management

application modules for various datasets, customer, and invoice records.
With Auditoria, we have a unique advantage with a direct line into the Workday Financial Management product engineering team. With sponsorship up to their highest executive levels, we are in lockstep with Workday at all times on product integration and functional issues. We also speak to their engineers to get access to early releases of their new versions, which ensures we are tested and ready to go as soon as they release a new version of their application.
No other vendor has this benefit, and for any company that runs Workday, this is a unique market advantage that Auditoria offers.
2021 was a foundational year for Auditoria as we launched our products into the market. It was incredibly gratifying to see the success and growth that our company has experienced over this last year.
We've touched so many customers and accounts and brought innovation to a domain that has primarily been passive in the technology explosion over the last few years.
We are also actively hiring in several areas within the company. If you are looking to challenge yourself, build and experience innovation while being part of an incredibly customer-centric culture, we would love to speak to you.
As we've turned the calendar page into our new fiscal year, I am hugely excited to see what the future holds, as several bright minds have said "the best way to predict the future is to build it."